FK Lowry secured the UK Infrastructure Award for "Construction Excellence" at the NI Concrete Society Awards for their work on the Thames Tideway Tunnel Projects at Carnwath Road (CARRS), Fulham and Hammersmith Pumping Station (HAMPS) Schemes.
The Concrete Society Awards celebrate excellence in Concrete design and construction in the Industry. The Awards demonstrate innovation in concrete composition, structure and form, visual impression and functional stability. The Award winners also proved sustainability credentials as well as client satisfaction and value for money.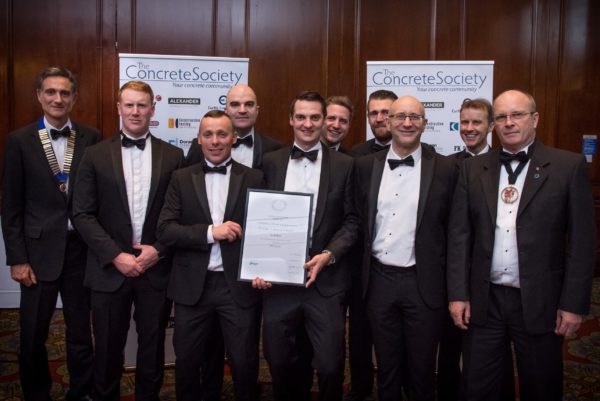 Pictured L-R: Dr Bryan Magee (NI Concrete Society Regional Chairman), Seamus Keane (Contracts Engineer - CARRS), Robert Foster (Construction Supervisor - HAMPS), Niall McGill (FK Lowry Piling Director), Jonathan Pearson (Contracts Engineer - HAMPS), Chris Chapman (Senior Designer), Sam Pyper (Contracts Manager), Douglas Cook (Technical Director), Mark Mc Keown (Business Development Manager) & Willie Doherty (UK Concrete Society President).