LAML were contracted to undertake rehabilitation works to Runway 10/28 and associated Taxiways Bravo 7, Echo 3 and Echo 6 in addition to the installation of AGL fittings and infrastructure. All works were delivered during 6 hour night closures whilst maintaining Category III opera on at either end of the runway throughout the dura on of the project. Each closure was successfully handed back on me.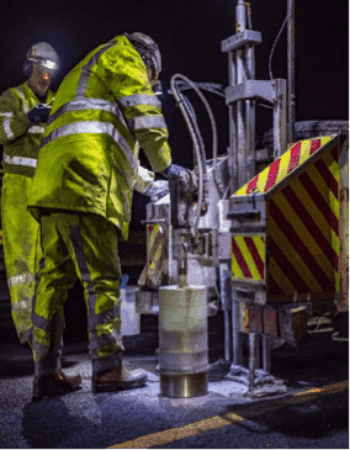 The works undertaken as part of our contract included:

Installation of 200 linear metres of Maxi-flex joints;
Saw cutting and sealing of 1700m of expansion joints and 2000m of AGL Secondary Cable Chases;
Installation of 1540 No. AGL sea ng cans;
250 No. 150mm cores into exis ng E-Pits and 80 No. 25mm angle cores;
Saw cutting 450m of >300mm deep cuts for trenches in pavements;
Installation of 2No temporary thresholds, one at either end of the runway, and;
Installation of a displaced threshold at the 28 end of the runway;
This contract was undertaken as part of the €57million Design and Build contract to upgrade Runway 10/28 which was awarded to Lagan Aviation and Infrastructure. These main works included the overlay of the runway including associated taxiways with localised shoulder fillet construction and widening and upgrading the existing drainage infrastructure.