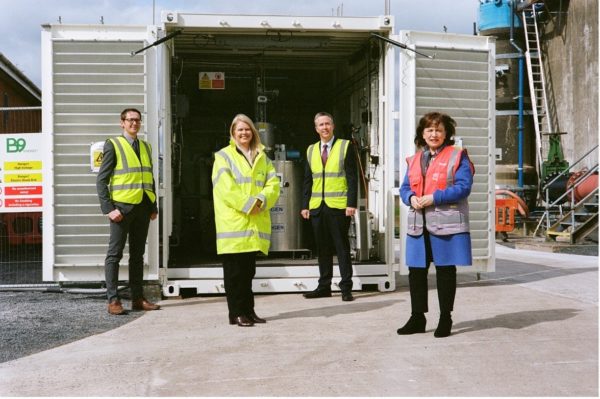 On the 1st of April 2021, Diane Dodds, minister of the Department for the Environment, visited Kinnegar along with Paul Stapleton Head of NIE and Alan Campbell head of SONI.
Welcoming them to the site on behalf of NI Water was Sarah Venning CEO of NI Water, Alister Jinks Head of business services for NI Water and Damien O'Mullan Head of Energy at NI Water.
Also in attendance were Kevin Anthony Lagan CEO of Lagan Specialist Contracting Group and Neil McKenzie, Director of LaganMEICA.
The electrolyser at Kinnegar has sparked considerable interest, both in the water, transport and power sectors of the economy. This potentially could be a game changer in all these areas of daily life, as we strive for a net zero carbon future.
I am delighted to announce an award of £5m to start this project. Hydrogen will become an increasingly important part of our future and there is a real opportunity for NI Water to lead the way in the public sector. It is a truly groundbreaking project that has the potential to completely change how we think about and use energy. (NI Water, 2021) Climate change is one of the biggest issues facing society and we are also dealing with the economic impact of the pandemic. Whilst these are undoubtedly challenges for us, we must look for the unique opportunities to shape our future. We have seen the success that Northern Ireland has had in meeting almost 50% of our electricity consumption from renewable sources. In order to eliminate carbon emissions from energy, our business and domestic consumers will need to make cleaner, leaner energy choices which will include moving away from fossil fuels by switching to renewable technologies and doing more with less. These changes will offer numerous opportunities including the creation of new jobs, developing skills and encouraging local investment. The new Energy Strategy will help Northern Ireland rebuild stronger as a greener economy, as well as providing healthier lifestyle choices for us, our communities, and our environment. I urge everyone to get involved in our consultation today, and together we can help shape an energy future that places your needs at the heart of Northern Ireland's energy strategy. (Economy-ni.gov, 2021)

Diane Dodds, Minister of the Department for the Environment